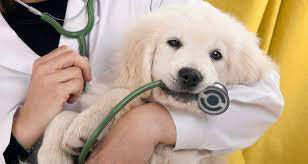 RAGofAZ has been inundated with Golden Retrievers!  Don't get us wrong…we are happy to be helping find them new homes, but all these puppies and dogs need vetting prior to adoption. 
We are looking for a few volunteers with good people and computer skills.  You would need to interact with both the hospital staff, medical personnel, and the new adopters.  If you've had dogs that you've seen treated over the years, you probably have accumulated more knowledge than you even know!  We have a very user-friendly database called Trackabeast which would require being able to save and upload documents.  You would need to be available checking email on a regular basis and, depending on the location of the vet and your home, possibly be able to attend a vet visit.  Some liaisons do it all from their homes!
Every dog is assigned to a vet care liaison assigned to a specific vet.  We have veterinarians scattered over much of the state and many hospitals and clinics that partner with us to take care of vaccinations, spay/neuter, medical testing, and other surgeries.  Additionally, all our adopted Goldens are implanted with a microchip to aid in their safe return should they become lost.
As Vet Team Manager, I am very supportive of the team.  I train all new volunteers and give assistance as needed as they begin to take on the responsibility of seeing that our dogs are vetted.  You would never be alone out there, trying to figure out what to do.  I, or the Director of Golden Operations, am always a phone call away.
 It's a great job for the right person or people.  If you think you might be interested in learning more, please contact me at judyclaire51@gmail.com.